Cost-Cutting in Optometry : Finding Simple Ways to Save in our Practices
By Kyli Gray February 18, 2022
It is always appropriate to evaluate if there are ways to save on operating expenses. In the last few years, we've learned that evaluating costs isn't only to boost our bottom line-it can help keep our business afloat during trying times
There are several ways in which we can modify existing processes to cut costs around the office. Here we will discuss five of these strategies.
Monitor Your Inventory
We can easily overlook things such as frame inventory. It's very easy to let something that seems to manage itself sit on the backburner. Frame Reps come in, fill their spots, and sell their new frames. This is their job, and they're good at it.
We can easily miss a breakdown in inventory if we aren't watching closely. An overstock of frames or frames that aren't moving off of the boards, are both big increasers to our Cost of Goods Sold (COGS).
More closely managing these oversights can reduce our overhead, helping us cut costs overall. In a similar article, Dr. Kimberly K. Friedman wrote that her practice reduced their COGS by 6% solely with more careful frame inventory management.
Upfront expenses on unneeded inventory hurt your bottom-line. The cost of inventory maintenance and management on unneeded items hurts your bottom-line, too. According to a piece advocating the implementation of inventory management software, business.org states, "COGS is one of the factors the government takes into account when calculating your business taxes, so having the most accurate COGS possible could potentially save you money on your taxes."
Don't Lose on Stagnant Orders
What do I mean by stagnant? Patients sometimes place their order with us for glasses and then, for reasons unknown, never pick them up.
The goal and hope would be that we've already been paid for the order, but unfortunately, this isn't always the case. By this point in the transaction, whether using an in-house lab or offsite lab, we've paid shipping or man-hours, paid for lenses, and paid for the man-hours of our opticians.
By requiring at least 50% of the total up-front, our costs are at least covered to some degree in the event the patient never picks up. It may not be a situation your office faces very often, but requiring partial payment will discourage patients from ditching you with their unwanted or forgotten orders.
Processing received CL orders and preparing them for dispense is highly time-consuming. Dr. Chad Fleming addressed this, offering ship-to-home options for all contact orders. By doing this, he found that his practice saved over $4,000 annually.
Suppliers such as ABB offer ship-to-patient options on their websites. This removes us from the equation entirely, saving us time and money.
Limit Your Accepted Insurance Plans
Most of our practices are starting to move towards more medical practice. However, routine vision exams will never leave our wheelhouses altogether. With this in mind, we can make some minor adjustments that can save us significant profits.
It's no secret within the industry that some vision insurance providers don't pay out as well as others. By only accepting those select plans which work the best for our practice, we can cut unnecessary costs.
Look closely at all of the vision plans your office accepts. Determine which are the most frequently used in your area and, of those, which reimburse you the most favorably. Instead of spreading your resources across all of them, focus on a select few and learn the nuances of these plans.
Dr. Friedman of Moorestown Eye Associates in New Jersey has seen success in generating roughly $100 more per patient by selectively working with insurance providers. This is done by learning each insurance provider's preferred products and brands.
Each of us has an "office standard" that we default to during sales, but selling a specific brand of lens, frame, or add-on could mean a considerable loss of potential income. Some insurance providers favor certain PAL's, AR-coatings, and even frame manufacturers, and this means more money for us and usually more savings for our patients.
Save Your Manpower by Outsourcing
Our practices' employees and team members are vital to a smooth-running office. Each of them should spend their valuable time working towards their strengths, increasing your overall efficiency.
Often, especially in smaller offices, one or more people are responsible for jobs such as billing, office management, insurance, etc. These individuals are often additionally tasked with handling insurance claims.
Outsourcing claim management to a third party company frees up the time of your busy employees' time, which could be better spent elsewhere in the office. You can also save money by relying on experts to double-check your fee slips, making sure you're getting as much as possible out of each claim.
Take Advantage of Savings with EHRs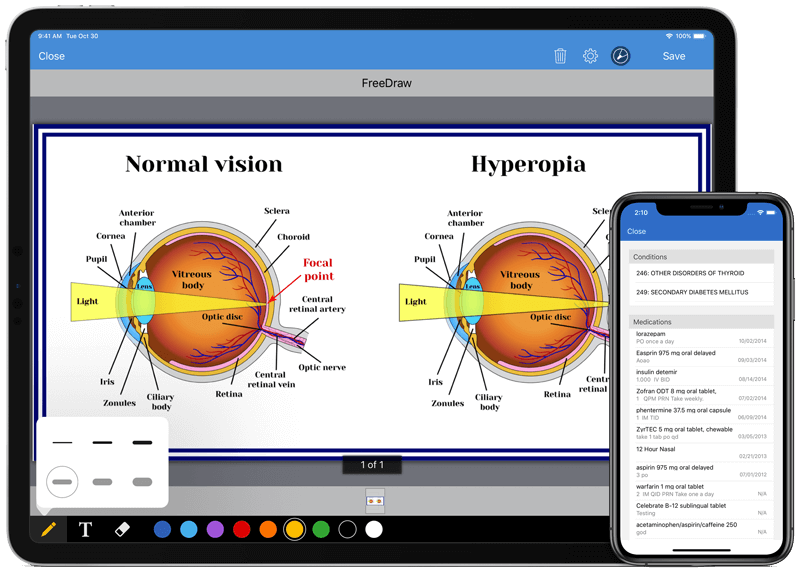 Even though the initial cost of moving from physical charts to an EMR is daunting, it can quickly pay for itself in practice.
Using an EHR reduces redundancy in duplicating paperwork, eliminates the need for transcription, and frees up those precious charting man-hours in our offices.
Practice Fusion breaks down the real numbers in actual dollars-and-cents, finding that this move to electronic records would eliminate an average of "$10 in rejected claims per patient per visit".
Additionally, operating on a cloud-based EHR system removes any costs of maintaining physical servers and the high costs of IT professionals specifically hired to handle your servers and EHR issues.
Final Tally
These are just a few ideas of small changes we can make, which all add up to significant cost-cutting for our practices.
Monitoring our inventory and getting orders out of the door are physical ways we can all contribute to our bottom line. Limiting which vision plans we accept and maximizing each of those benefits will earn better reimbursements for us. Outsourcing work away from our valuable staff to third parties and avoiding hidden costs in some programs we utilize pays off, as well.
These will all add to our bottom-line, which we all are watching more closely nowadays.