Strategies to Create a Family-Friendly ECP
By Eleni Karayeva February 11, 2021
Since the start of the pandemic, a higher number of families have relocated, out into the suburbs, or to other states. Regardless of where your practice is located, these demographic shifts call on you to reevaluate your marketing approach. If your goal is to promote your practice as family-friendly, here we've compiled some strategies to help you step up your marketing game.
Website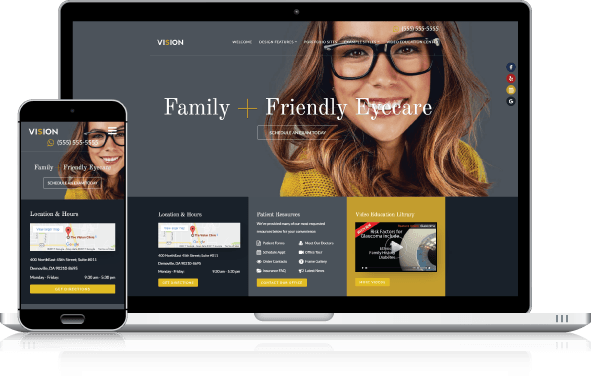 Brushing up your practice's online presence can be a great starting point. If your practice has a website (as it must!), look over its content with a critical eye; better yet, have a friend or colleague lend you a fresh perspective. What impression does the website give? Does it look like the type of practice that a family with young children in need of eyeglasses would consider? Would that same family consider bringing their parents to your practice because you offer services such as diabetic eye exams and glaucoma check-ups? It's important to not just explicitly state that your practice is great for the entire family but to specifically mention the wide range of services you offer. (We've all had that patient say with surprise, "oh, you do this here? Then I can bring my mom here too!"). It is also a good idea to run an active blog on your website. The long term benefit of maintaining a blog keeps your content fresh, which does wonders for your SEO strategy; the more immediate advantage is that a blog allows you to go into more details on those topics that help cement your business's reputation as a family-friendly practice without making your main web pages too wordy.
Social media
Instagram and Facebook often top the list as the most popular social media channels utilized among eyecare practices. Of the two, Facebook in particular has tremendous potential to reach a wide variety of audiences. People who already know each other in real life - family and friends - interact daily on Facebook, checking in, making recommendations; in essence, these interactions can become a powerful referral tool for your practice. And while Instagram's users comprise a younger demographic, using both Facebook and Instagram in tandem as part of a broader marketing strategy would ensure that you are targeting a wide range of age groups.
On either platform, be sure to add family-oriented content. On Facebook, such content might include educational posts with calls to action; for example, February is Age-related Macular Degeneration Awareness Month, so this would be an opportunity to educate and promote your services to the at-risk age groups. Instagram is a visual platform so here you want to gauge the overall look and feel of your feed. If your mood board is mainly made up of photo images, do they represent various age groups or do they share the same generic modelesque vibe? Finding the perfect photos for your practice's feed might not be easy but here's a tip: mix it up with some infographics. Infographics are great for boosting engagement on the platform and can serve as a visual extension of the content you are posting on Facebook or your blog entries. Also, keep in mind that if you are using Instagram's targeted advertising you can make adjustments to your intended target audience.
Insurance directories

Finally, don't forget to keep your practice information up to date in insurance directories. This one is really a no-brainer if you consider how many new patients are turning to their plan's "find a provider" search - new because they moved, or because they changed insurances, both very common scenarios nowadays. Whether or not your practice will display in their results depends on how complete your practice's profile is for that insurance plan. Usually, these directories allow you to specify the age range of the patients you see; some let you check off more specific services, like diabetic or pediatric eye exams. So the next time you receive that quarterly demographic update notice, don't treat it as a nuisance, but as a free marketing opportunity!
Patient referrals
Now that we've addressed the digital side of marketing your eye care practice to families, let's discuss some "old fashioned" strategies that work just as well. We're talking about referrals from other doctors. For optometry practices, the two main sources of outside referrals are primary care physicians and ophthalmologists. If you haven't already, do your research; find which PCP's and MD's are in the vicinity of your practice. Next, you want to connect with them, which might involve (covid protocols permitting) actually paying them a visit to discuss what it is that your practice can offer their patients. You'd be surprised how many of these doctors didn't know they could refer their patients to you, and even more surprised how happy they would be to have found you! Depending on how densely populated the area where you practice is, they might already have someone they work with, but don't let that deter you. Develop a consistent, organized approach - don't assume one phone call or visit is enough to get 10 referrals a week. Don't forget to follow up with the doctors about the patients that do get referred to you; sending a consultation letter, even if the patient was referred to you for just an eyeglass prescription, is a must. Think of it as a sort of thank you note!
Getting involved in your community
Want to get even more active in promoting your eye care practice to families? Get involved in community events around your neighborhood. Schools and senior centers, for example, are known to hold health-themed fairs. To participate, your best contact points would be local community leaders and health insurance reps, since they are often the organizers and sponsors. Reading this you might be thinking, "what events during the pandemic?" but in fact, quite a few such health fairs have gone virtual. So of course, the format has changed and you won't be out there handing out fliers about your practice. Nevertheless, being part of a virtual health event is still a tremendous opportunity to get the word out about how your practice serves families in your community.
It's always a good idea to revisit your marketing strategy from time to time and introduce new ways to reach your patients. Following the tips we discussed here should help you promote your practice to families and reach new patients.