Own Your Practice Staff Scheduling: Boost Productivity & Profit
By Eleni Karayeva November 04, 2021
Staff scheduling is often a dreaded topic among practice managers. Yes, we've all had those stressful days when we had to make a dozen apologies to the patients for the wait because we were short-staffed. These might be the days when you wonder if there's something you should do about the staffing, but then the slower days convince you that might be just ok - until the next time. And while managing the staff schedule can be a challenging part of running an optometry practice, here are some ideas to simplify the task.
Keep a schedule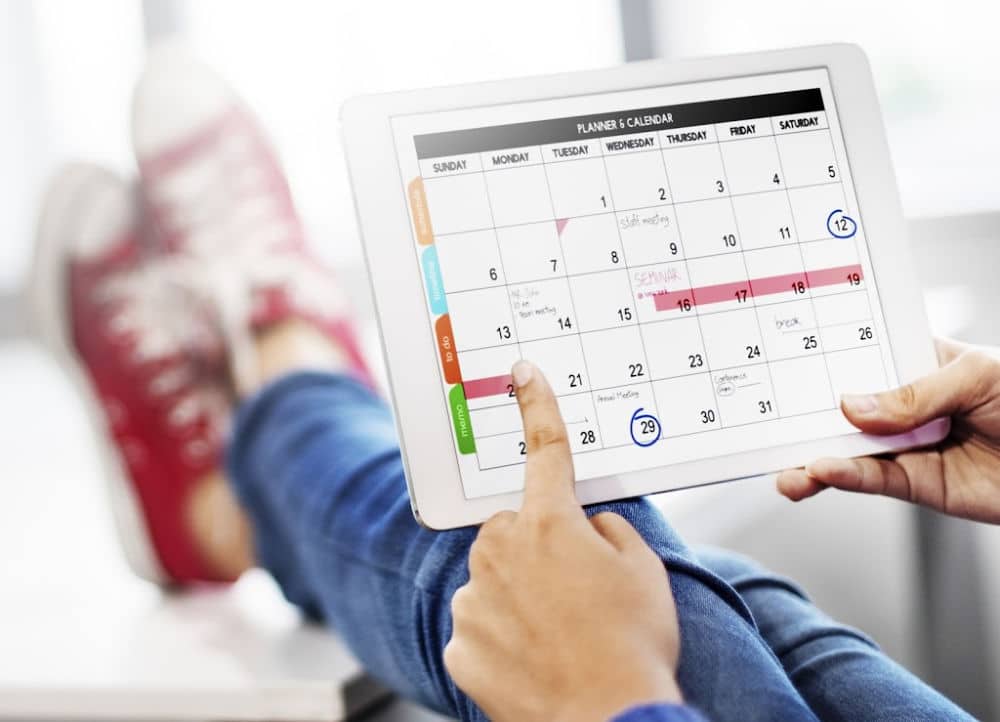 This might seem like a no-brainer, but it's truly surprising how many practices run their staff schedule on memory instead of using an actual physical (or digital) schedule calendar template. Take an organized, proactive approach and make it a habit to review the staff schedule on a weekly basis. It's easy to forget a verbal exchange with a staff member about their personal day off a month from now without actually marking it on a calendar. It's worth mentioning that it need not be a literal "old-school" calendar. There's the Excel spreadsheet - a common upgrade from the traditional pen and paper schedule - and then there are excellent software options. Using scheduling software can greatly benefit larger practices, especially those with more than one doctor and many staff members. Being able to share it with the rest of your team is probably the best part of using scheduling software. Ultimately, it will save you the time spent to manually prepare the schedule each week. (And eliminate the need to navigate through illegible scribbles and cross-outs on your calendar). Though emergencies happen, at least upcoming vacations and personal days off won't catch your practice by surprise. Additionally, going the tech-savvy route has other perks too - scheduling software often comes with clock-in systems and payroll capabilities, both of which can be a tremendous help to management.
Finding a balance between over- and under-staffed
Take the time to periodically run a "health check" on your practice to determine if you're adequately staffed. Some days may be busier than others, and it is on those days that you might feel overwhelmed and decide your office is understaffed. But instead of making a spontaneous decision, look for these recurring signs of understaffing:
- Unfinished daily tasks (ordering, billing)
- Patient wait times at check-in and when dispensing
- Doctor running pre-testing
On the other end of the spectrum, there's the overstaffed office where there's too much idling and the workload doesn't justify payroll costs.
Over time, the stress from inadequate staffing will inevitably affect the practice's bottom line. If there is a level of service you strive to provide - one that your patients have come to expect - the staff are responsible for maintaining it. On a broader scale, consider establishing clear-cut policies that set clear expectations: the days and hours each staff member is expected in the office, the minimum advance notice they must provide when taking off for vacation, and etc. And while it's perfectly ok to be flexible, especially in today's job market, do not leave determining the schedule up to each individual staff member. The schedule should always be coordinated to reflect the doctor's hours and the patient flow; otherwise, there'll be days when you're either understaffed or overstaffed.
Cross-train
Cross-training is an excellent buffer against staff shortages. That way even when it does happen that someone is late or unexpectedly out of the office, your practice can continue to run seamlessly. Besides the doctor, there are many aspects to an eyecare practice: front desk, sales, billing, the lab. And though you might initially hire and train staff to each fill just one of these specific roles, learning new skills should be an ongoing process. For example, front desk staff can learn how to make frame adjustments from the opticians and every non-doctor team member should know how to pre-test patients. This way, no patient will get turned away if they need a quick fix on their glasses when the optician is not available, or in the latter situation, pre-testing patients won't fall to the doctor. Always encourage your staff to learn from one another. Don't hesitate to invest in additional training through webinars, conferences, and other industry events.
Look to how other industries get it done
Don't hesitate to draw inspiration from other industries, such as retail and hospitality. For example, think about how luxury retail handles staffing to avoid lines and make customers feel cared for. Ideally, someone is always ready to assist. Otherwise, they'd risk losing a sale. Now translate that into the context of an eye care practice: a patient - or even a potential patient - walks in to inquire about their insurance, or to browse the frame selection; if no one is available to assist them right away, they would likely walk out. So when working on staffing your practice, build the schedule in a way to cover each department at all times.
Seek feedback
To get an even better picture, encourage feedback from both patients and staff. Open communication at staff meetings can identify operational issues; by evaluating what's working and what's not, you can then figure out what gaps to fill through cross-training. On the other hand, feedback collected from patients will lend an outside perspective and bring to light issues you might otherwise be oblivious to.
Managing the staff schedule is no easy task, but it becomes much more feasible if you adopt an organized approach. Once you have the framework, it's a matter of finding the right balance between your team, their skills, and the level of service that is the standard for your practice. Keep your mind open to new ideas and inspiration and your practice will enjoy new levels of operational efficiency and profitability!