Progressive Lenses: A Surefire Way to Boost Your Bottom-Line
By Kayla Groves September 24, 2020
Progressive lenses are indeed a remarkable invention, and they are the preferred choice over a lined bifocal. They offer many benefits, such as allowing the wearer to see clearly at every distance without switching glasses, and they are more cosmetically pleasing. Over the past ten years, progressive lenses have advanced significantly, and there are many lenses to choose from.
Insurance companies commonly break down progressive lenses into four categories: Standard, Deluxe, Premium, and Platinum. Each category offers different levels of quality. Standard progressive lenses offer the lowest level of quality, where platinum provides the highest level of quality. Typically, insurance companies are only willing to cover standard progressive lenses, and anything over that is left to the patient. Up-selling progressive lenses can help your practice and your patients. As eye care professionals, we want to offer our patients the best visual acuity for their lifestyle. Here are a few strategies on how you can help your patients achieve the best vision, and in return, help increase profits.
Progressive lenses are always a hit or miss. Your patient is either going to love them or hate them. Many people complain about blurred vision, headaches, distorted peripheral vision, and nausea. However, with today's advancements, many lenses have eliminated those problems, and they have allowed first-time progressive wearers an easy transition from single vision glasses. Your average patient does not know or care what type of progressive lenses they receive, but it is crucial for you to educate your patient on lens technology and how it can benefit them. It would be best if you always offer your patient the best progressive lens possible.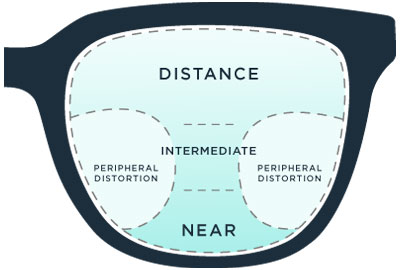 Standard progressive lenses cause wearers a significant amount of vulnerability because they are designed for every wearer. One of the biggest complaints with standard progressive lenses is the loss of peripheral vision. The three different segments in a standard progressive lens use an average measurement that is usually inaccurate, which causes the loss of peripheral vision. This outdated way of measuring progressives is no longer needed, and we have better lenses that we can offer our patients. Deluxe and premium lenses are going to provide your patients with a broader corridor (viewing area). They are going to allow your patient to transition from one point of viewing to another smoothly. While some of the deluxe and premium lenses will help eliminate some of the problems, it may not eliminate all of them.
Custom Digital Progressive lenses are just a few types of lenses offered in the platinum category. These lenses are going to give your patient the best visual acuity. Custom progressive lenses eliminate distortion because they are designed for the individual wearer, and they consider:
● The patient's frame
● The lens position in front of the eye
● The angle between the eye and the back surface of the lens
● The PD
Considering custom digital progressive lenses offer the best visual acuity, you should provide patients with 100% satisfaction within a reasonable amount of time. Let your patient know ahead of time that in the event they are unhappy with their custom progressive lenses; you will put them back in a standard progressive lens for no additional charge. Offering this service will reassure your patient and form trust and loyalty. Once a patient experiences a custom progressive lens, you can almost guarantee they will never go back to a standard progressive lens. By doing this, you are securing return revenue each year.
If your office currently sells 700 pairs of progressive lenses annually and you convert a minimum of 200 patients into a custom digital progressive, you can increase your annual revenue by $28,000
Acording to the Vision Council, the average pair of traditional progressive lenses sell for around $270, and the average cost of a custom digital progressive lens will sell for over $410. If your office currently sells 700 pairs of progressive lenses annually and you convert a minimum of 200 patients into a custom digital progressive, you can increase your annual revenue by $28,000. That is converting less than half of your patients to a custom progressive lens. If you converted 200 patients into a deluxe or premium progressive, you could increase your annual revenue by $14,000. Not only will your patients know they are getting the latest technology in lenses, but they are leaving with trust and loyalty. These lenses are specifically tailored to suit your patient's vision needs, and they use precise measurements to create a lens that makes crisp viewing from all angles possible. Custom digital progressive lenses are a game-changer for most patients.
With this type of lens available, why would you offer any other progressive lens to your patient?