How To Hold Your Ground in the Competitive World of Contact Lenses
By Kate Gettinger, OD May 11, 2020
Contact lenses are an integral part of any thriving optometry practice. However, in the current age of online retailers and the savvy consumer, creating a sustainable profit off of contacts lens patients can occasionally seem a bit more complicated than it was ten to fifteen years ago.
Contact lens sales aren't going away anytime soon, research shows that contacts lenses are actually projected to increase at a much more significant rate than eyeglass sales. Even if you feel your practice is sustaining well at this moment from eyeglass sales, more than likely you will need to look to increase your focus on contact lens sales in the future in order to maintain steady practice growth.
When you look at the figures, there is a strong argument for practitioners to continue to offer contact lenses to patients. According to the Vision Council's US Optical Market Overview from September 2019, there has been a growth of 2.93 million contact lens users since 2014, resulting in revenue growth of over 1 billion dollars. The majority of these sales are from independent eye care providers.
In addition, it is currently predicted that contact lens sales will continue to increase by 4% in 2020, while the market forecast for ophthalmic frames is only projected to increase by 0.7%. If you only look at the revenue generated from selling boxes of contact lenses, you aren't getting the full picture of how profitable your contact lens patients truly are for you. Over the course of the years, a contact lens patient will net you more money than an eyeglass only patient.
Consider the frequency of visits associated with a contact lens user compared to an eyeglass only patient. A patient with eyeglasses may only return for an annual exam every 2-3 years. A contact lens patient, however, will return like clockwork for their annual exam in order to renew their contact lens prescription. Contact lens examinations usually have an additional exam fee compared to an eyeglass only exam, so you are not only making more per visit with a contact lens patient, but you also make it more consistently.
Your contact lens patient obviously needs to purchase contacts, but there is the added opportunity for revenue by selling these patients eyeglasses and sunglasses, as well. Contacts do not replace the need for a backup pair of glasses, and you and your staff should help patients be aware of the need for an alternative to contacts.
How To Ensure Profitability From Contact Lens Patients
Are you taking steps in your practice to make sure you make the most of your contact lens patients? Don't let patients leave wanting more. A patient who doesn't have the opportunity to fulfill his or her needs at your practice won't hesitate to buy elsewhere.
One of the biggest frustrations for many practitioners is the rise of online contact lens retailers. How many times do we hear a patient ask for their prescription and walk out the door and then later receive a fax from 1-800-Contacts asking us to sign off on their order? When a contact lens patient leaves your office without ordering a supply of lenses, you and your staff haven't done a proper job incentivizing the patient to buy from you.
Patients may automatically assume that ordering online is less complicated than ordering through your office. If patients like the convenience of having a supply of contacts shipped directly to their house, make sure you offer direct shipments and make your patients are aware of it. Make patients aware of any insurance benefits they can use towards contacts or rebates, which they cannot apply to online purchases.
Figures compiled by the Management and Business Academy (MBA) show that practices stand to gain the most if they are willing to vary the contact lenses offered.
Daily disposables made up 25 percent of dispensed lenses for the best performing practices, much higher than the 6 percent average for practices. Additionally, monthly silicone-hydrogel lenses were responsible for about 40 percent of dispenses at the most successful practices compared to 18 percent on average.
What does this mean? First, it means you should be looking to upgrade all your patients to Si-Hy lenses. Not only do these lenses offer improved comfort and a better health profile, but the upgrade also means additional profits. You can also consider fitting borderline astigmats into toric lenses, which can result in better clarity but also an increased exam fee for a toric fit.
In this day and age, most patients aren't averse to the idea of an upgrade in contact lenses. We think nothing about upgrading our smartphone every two years when a model with new bells and whistles comes out, and upgrading our contacts should be no different. Soft lens technology is constantly evolving. Be aware that you can improve your clinical outcomes by offering patients newer technology and reap a higher revenue in the process.
Based on statistics provided by the Best Practices of Contact Lens Management from the MBA, the types of lenses that are seeing a growing trend on the market are silicone hydrogels, soft torics, soft multifocals, daily disposables, and monthly disposables. This means declining lenses are colored lenses, two-week replacement lenses, and HEMA based lenses.
Shift your practice to focus efforts on the types of lenses that are trending positive. Refit your two-week replacement wearers into either a daily disposable or a monthly replacement lens. Data has shown that patients are more likely to be non-compliant with two-week replacement schedules, so it is in everyone's best interest to recommend these patients shift into a different modality.
According to figures from the MBA, while toric and multifocal specialty lenses may only account for 22 percent of fittings, they can be responsible for 32 percent of soft lens profits. There is a higher return on these specialty fittings, and it is worth your time to take steps to promote these lenses and fit more patients.
A 2008 Compliance Survey by the MBA shows the best compliance rate for replacing contacts was among daily disposable wearers. This means fitting your patients in dailies has multiple benefits:
● Your patients are less likely to have contact lens-related health complications
● Your patients are more likely to buy an annual supply of contacts
● Your patients are more likely to return for annual eye exams
A patient who is stretching their two-week replacement lenses due to concerns of cost is less likely to buy an annual supply upfront. Many two-week lens wearers do not see the harm in stretching lenses.
Give these patients the option to switch to a monthly disposable. You can educate them on the importance of regular lens replacement, but also let them feel like they are still getting value for their money when buying a year's supply of monthly lenses.
A study by ABB Concise revealed that compared to an annual supply of HEMA two-week spherical lenses, switching to a Si-Hy two-week lens will increase profits by $17.48, while switching to a monthly Si-Hy will yield a profit of $62.76. It is worth refitting patients not only for the added health benefits and compliance of monthly Si-Hy lenses, but also for the potential profit.
How To Improve Contact Lens Profitability In a Thriving Practice
Perhaps your practice is already performing well for contact lens sales. This doesn't mean you shouldn't entertain contemplating how to improve your sales even more. A successful practice should always be looking for ways to move forward, even if only making minor tweaks.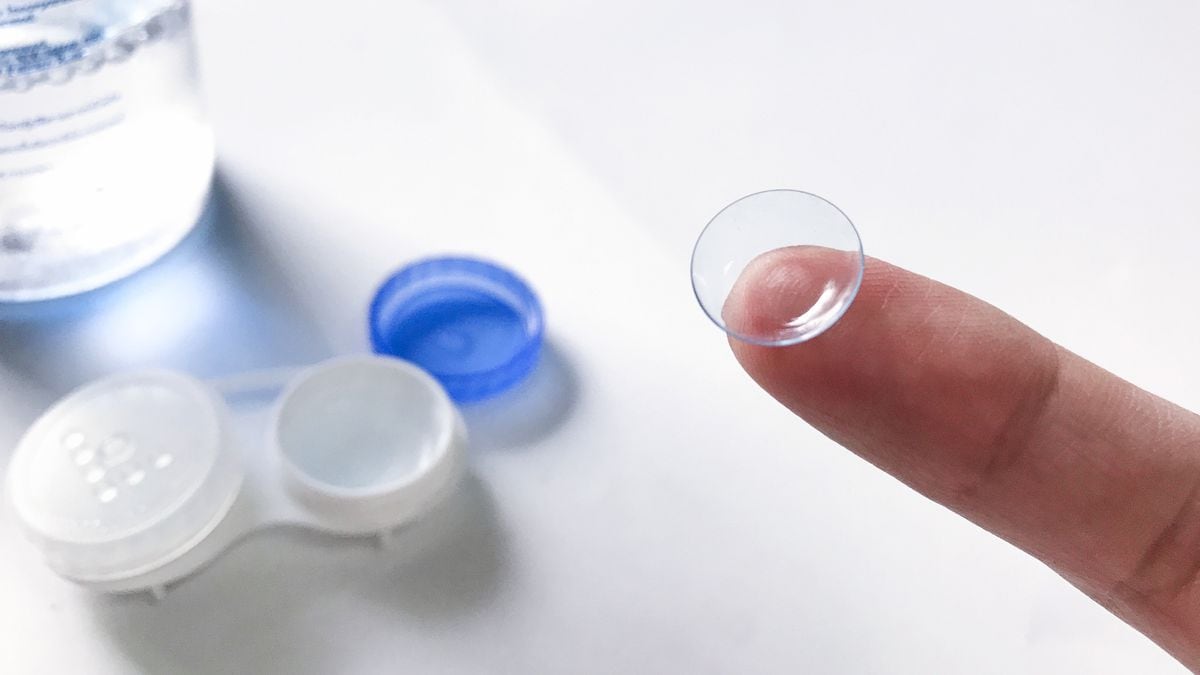 If you want to make the most out of your contact lens sales, one of the most important steps you can take is to track your product sales. Analyze your sales based on product type and brand, rather than just looking at the gross profit. Are you successfully fitting patients in the lens types that are trending upwards? Are there any areas that are drastically falling short?
Breaking down your contact lens sales to continually track by modality and brand can help you identify areas where you can look to expand or trim out less profitable deadweight. Make sure your practice is offering a healthy mixture of lens types in order to satisfy your patients' visual needs.
Don't be afraid to implement new technology in your practice. While it can be intimidating to vary from your norm due to the hassle of having to train staff and risk dissasifying patients after using gerund "having", it can be to your advantage to embrace new technological advances in contact lenses.
Scleral lenses are a great way to increase your contact lens practice and reach more patients and increase sales. While their popularity is increasing, scleral lenses are still often considered a specialty fit and many practitioners are hesitant to incorporate them into the practice. If you are willing to take the extra effort to set up the foundation to successfully fit scleral lenses, the benefits can be significant for both you and patients.
Whenever you implement a new contact lens technology, whether it is scleral lenses or simply a new type of soft contact lens, it gives you the opportunity to market it to both existing patients and to attract new patients. If your practice offers something different, you can use this to set you apart from the competition and appeal to patient populations who want to embrace the latest and greatest treatments.
If you offer a specific technology, be sure to network with colleagues to make them aware of the services you provide. Other practices may refer specialty fits to you rather than bother to do them in house. Consider establishing relationships with providers outside optometry, such as rheumatologists and pain specialists who may see patients who could benefit from specialty contact lens fittings.